Baltimore Plaza Hotel ~PLUS~ Get a $25 Hotel Rebate!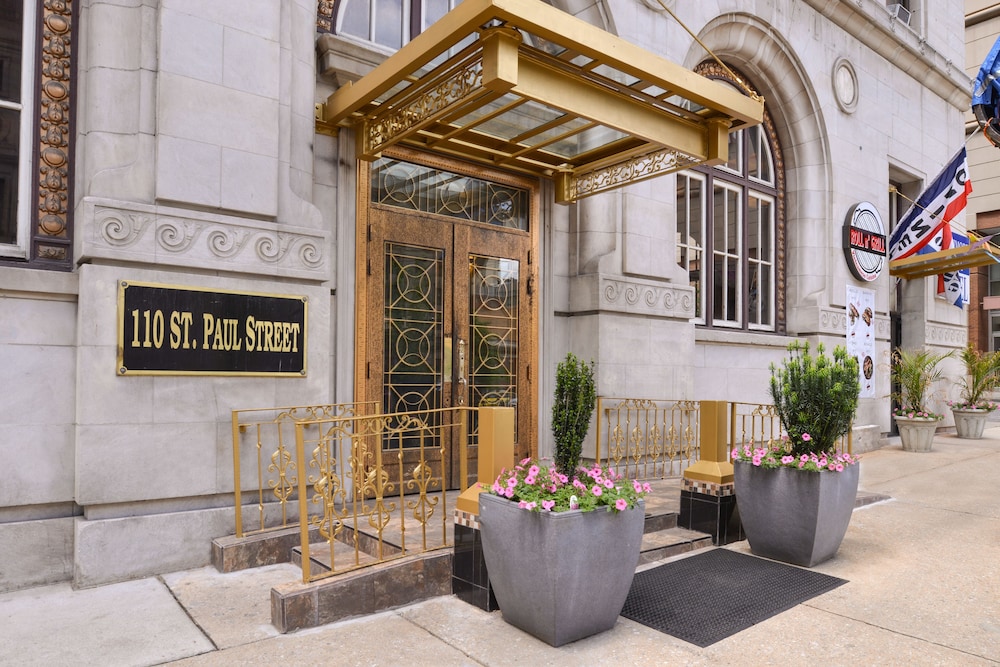 Photo: Hotels.com
Do you have any idea how difficult it is to find a hotel within walking distance from a major convention, in a major city, during the weekend, while on a budget? It's hard. Seriously hard. The closer to the convention you get, the more expensive the rooms get. The closer to the convention date you get, the more you are going to pay for a room. So allow me to brag for a moment about the time I found the perfect hotel at a perfect price.
This post contains affiliate links
Photo: Booking.com
I knew when booking a hotel for Baltimore Comic Con that I would have to get it done early, so months prior, when I got my passes, I set out to book a room immediately. Most rooms were upwards of $200 a day and I like to try and save money. At the same time, I also don't want a dump to sleep in either. I know, you have to pick and choose, but I want both an affordable hotel room and one that isn't gross. Wine taste on a beer budget is what my husband always says about me.
So scouring Booking.com and I came across the Baltimore Plaza Hotel. The rooms looked adorable honestly, and for only $91 a night plus within walking distance of literally everything. I checked the reviews of this hotel on a couple sites and there were some not so great reviews, naturally, but there were also some really good reviews. I liked the look of the hotel and the price was in my range, so I went for it and booked one night there.
When we arrived in Baltimore, we looked for the hotel first, and when we found it and discovered how close it was to the Inner Harbor (where the convention is held), we just decided to park at or near the hotel and walk the rest of the day. This was no big deal for either of us since we both walk a lot every day as it is. There was a nice parking garage right beside the hotel, so we parked in there. The payment booth inside showed $16 for 24 hours. Compared to what we were seeing others pay for parking (which was upwards of $20-$30) we considered ourselves lucky. So we parked and walked.
Later in the day, when I started to get tired, we walked back up to the hotel and checked in. My husband was in awe of how nice the hotel was right from the jump. There was a cute lighted fountain out front as well. Hubby was impressed and since we are use to much simpler hotels, this was pretty fancy in our book, especially for the price.
The rooms are super cute! I did notice that the tie back for the one curtain was missing, so they just tied it to the other window. That was a little weird and made me giggle, but the room itself was cozy. The ceilings were really high in these rooms as well. Admittedly, it's smaller than we are use to, but I loved it.
Loving the sink!!
The doors to these rooms are like bank vault doors. They are hella thick and heavy. So I felt safe. Not that I didn't feel safe, because there was always someone on duty at the counter downstairs, but I'm not typically a city person, so I need that extra comfort.
Really, the only complaint I had was the lighting. It was way too dim in my opinion, which made doing my hair and makeup a little difficult in the morning. On the other side of the fence, the dimmed lighting was soothing and since it wasn't too bright, it was easier to relax.
Breakfast was free with our room, and we aren't talking about a simple stale muffin and some orange juice. They had a nice selection for breakfast and a cute little area to eat in that, from what I understand, use to be a restaurant that was attached to the hotel and has since moved to a spot on the other side of the hotel. It was quite warm in the breakfast area the next morning, but we were only in there long enough for a cup of coffee and a quick bite of eggs and toast before we headed out for the day.
When we got to the parking garage and went to pay for our parking, we inserted our parking pass and it charged us $5. This is where my husband and I quizzically looked at each other. We had assumed that maybe we could pay the rest on the way out. Surely there had to be a mistake. We both saw the price on the machine when we parked that said $16 for 24 hours. Upon exiting the parking garage, and inserting our pass on the way out, it gave us the go-ahead and we both realized we parked for 24 hours for $5. I'm not kidding. I don't know if it was a fluke or what, but now we are sold. The hotel won us over and parking price was the icing on the cake.
Now here's the icing on YOUR cake:
Use
this link
when booking your next hotel stay, and receive a $25 rebate* on your credit card after your stay!
*US ONLY