Figment Clothing Turned Me Into a Fitness Mermaid
Since I workout daily, I can honestly say that I'm one of those people who practically live in yoga pants and leggings. Not so much outside of the house, at least not yet, but they are more comfortable to move around in when I'm cleaning and I've been known to sleep in them as well. I'm rather short at 5'3" so leggings are a rough situation. Regular leggings are way too long for me and even capris tend to be on the long side. I gave Figment leggings a try. Let's see what I thought of them.
Not satisfied with the leggings that were on the market at the time, my sister-in-law decided to design her own for an upcoming photoshoot. Realizing that many others were having this same problem, a business was born. She has sold everything from Pokemon Go leggings to Steampunk and Cyberpunk. But she eventually ventured a little farther and included yoga leggings, yoga capris, dresses, and essentially an entire wardrobe in patterns completely designed by herself. She even takes custom orders.
Since leggings are hot for anything right now, she wanted to include kick butt leggings that were fun to workout in, as well as be included in many costumes, since we are a cosplay family, after all!
Admittedly, it's impossible to decide on a favorite design in her store, as I really love them all, but I fell in love with the mermaid designs. She painstakingly designed each pattern in various colors, and even rainbow designs. I was drawn to the green ones in particular.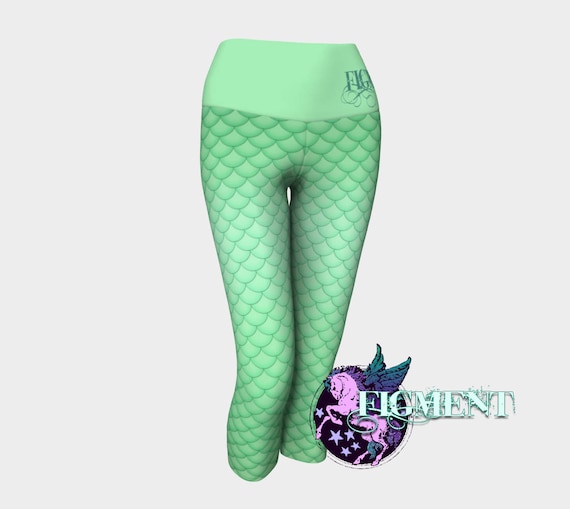 Naturally, length is always a concern for my shorty legs. My favorite pair of capris from a different brand I found on Amazon measure 17". That seems short for capris, but they hit me just an inch or two below the knee so they are the perfect length for me. I've owned several pairs of yoga capris from different companies and they tend to go to the ankle for me since I'm so short. Another problem I have is that the waste band tends to be too tight, while the pants fit perfect everywhere else, and you get the dreaded muffin top. Something that I don't generally tend to have happen in my favorite pair.
The regular leggings Figment sells as well as the yoga leggings are about 22" long, where as the capris are 20". I knew from personal experience and preference that the capris would work out better for me to, well, workout in. As far as costuming, I would reach more for the 22" yoga leggings because I would more than likely be wearing them with boots.
The difference between the yoga leggings and the regular ones is the waist band. The yoga leggings have a wider waist band. These are my favorite when I'm looking for a little tummy control. I'm a mom. It's not going to matter if I'm a size 3 or size 13, I'm going to have a tummy. So I like a little more "coverage" in my leggings. You can read a little more about the difference between yoga leggings and regular leggings on
Figment
.
Surprisingly, the length ended up being great! A little longer than my favorites, but also, thankfully, not as long as other capris I've purchased. So that made me happy. The print is fantastic and I love the Figment logo on the band.
I have no bum, but honestly, they make me look like all those squats I do actually pay off! So of course my husband now loves them about as much as I do.
These are a little thicker than my other pairs from various companies, but they are extremely comfortable. It's like a second skin to where you really don't feel like you are wearing leggings. The band is perfect fit for me. I wear a medium, and straight out of the bag I was questioning if they would fit or not because they looked small. Once I tried them on, I was impressed. The stretch is excellent as well, but at the same time, you don't feel like you are being strangled by them. The band on mine roll slightly, but that's because of where I wear mine. When I'm on the elliptical or doing crunches, it happens, but only the very tip tip of the band. The band stays put; no sliding and other than the very tip top of it, no rolling either.
These leggings are fantastic, and the super awesome part is that these seem to be one of the only, more affordable leggings with such a wide size range. Figment Clothing ranges in size from XS-5X, so anything on the site is made to be worn by real people with real bodies, unlike so many other brands that have minimal sizing options.
You should check out her new Halloween line, as well!
Psst! She's currently working on ideas for the Christmas designs.
*Disclosure: This product was received as a sample in exchange for an honest, unbiased, review. The reviews and or opinions on this blog are 100% my own. No monitory compensation was received and I was not required to write a positive review. I am disclosing this in accordance with the Federal Trade Commissions 16 CFR Part 255: Guides Concerning the Use of Endorsement and Testimonials in Advertising.