Meet Sesame Street's Newest Character!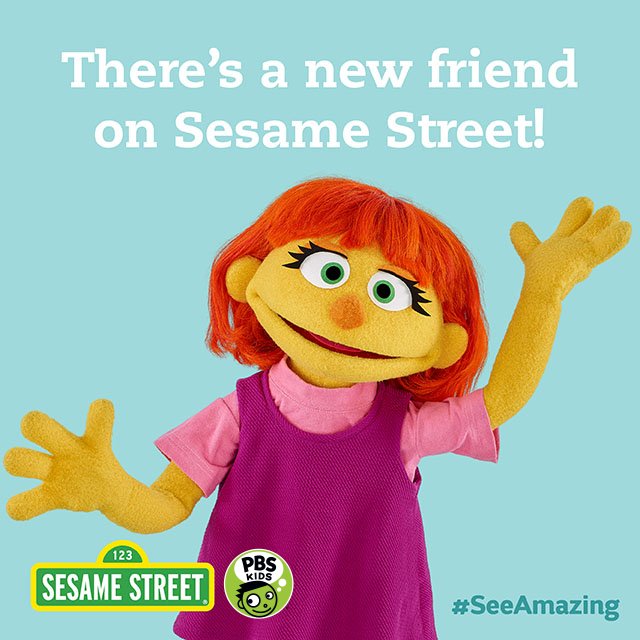 On
Saturday, April 22
from
11AM – 5PM
, children with disabilities and their families will have the opportunity to experience an exclusive day at the park filled with one-of–a-kind furry fun. Appearing at
Sesame Place
for the first time will be walkaround Julia, a new Muppet character with autism
.
On Variety Day, Sesame Place officials will make special accommodations for children with autism, including designated quiet areas, low sensory shows and volume adjustments throughout the park to ensure every child has an unforgettable and enjoyable experience. The park will also host a resource fair, where families can learn and connect with others at their leisure.
On Variety Day, walkaround Julia will be available for meet & greets. Variety Day provides an opportunity for guests to have a better understanding about autism and for children with autism to see themselves reflected in a positive way.
Guests will also receive a free storybook about Julia called "We're Amazing, 1, 2, 3!"
"We are honored to welcome Sesame Street's newest friend, Julia, to our Variety Day this year," said Bob Caruso, Sesame Place, Park President. "We admire Sesame Workshop's dedication to spreading awareness about autism, and we're excited to be a part of the initiative."
For complimentary admission, Variety Club members should contact Variety at VarietyPhila.org or
(215) 735-0803
. Parking will be $25 per vehicle and a portion of the proceeds will go to Variety - the Children's Charity.
About Sesame Workshop:
Sesame Workshop is the nonprofit media and educational organization behind Sesame Street, the pioneering television show that has been reaching and teaching children since 1969. Today, Sesame Workshop is an innovative force for change, with a mission to help kids everywhere grow smarter, stronger, and kinder. We're active in more than 150 countries, serving vulnerable children through a wide range of media, formal education, and philanthropically-funded social impact programs, each grounded in rigorous research and tailored to the needs and cultures of the communities we serve. For more information, please visit
sesameworkshop.org
.
About Variety - the Children's Charity:
The Philadelphia Chapter of Variety - the Children's Charity was established in 1935 and provides various programs for children with physical and developmental disabilities throughout the Delaware Valley, including Southeastern Pennsylvania, southern New Jersey and the State of Delaware. Our programs are designed to foster greater independence and self-confidence in children and youth with disabilities by engaging them in recreational, social and educational enrichment activities, while connecting families to resources. For more information, visit
www.varietyphila.org
or call
(215) 735-0803
.

About Sesame Place®:
It's the perfect time, and they're the perfect age, for Sesame Place®. Go before they grow® to the nation's only theme park based entirely on Sesame Street®. Sesame Place is located just 30 minutes north of Philadelphia and 90 minutes south of New York City. Sesame Place was named by Parents Magazine as one of the "10 Best Theme Parks for Families". For more information, call 215-702-ELMO or visit www.sesameplace.com